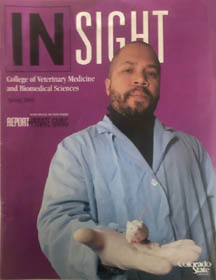 Erik Rush is a freelance writer, content specialist and published author with a specialty focus on medical writing. He has worked with both research scientists and clinicians in noted medical institutions such as Memorial Sloan-Kettering Cancer Center, National Jewish Center/Hospital, Colorado State University and numerous biotech and pharmaceutical companies. His writing has included facility manuals, operational protocols (SOPs) for NIH-funded Biosafety Level 3 (BSL-3) facilities, as well as human experimental therapy protocols for submission to the U.S. Department of Agriculture (USDA) and experimental protocols for FDA-approved GLP studies.
Erik has an impeccable command of the English language, and is well-versed in medical writing for business. He has written web content, product descriptions, whitepapers, articles and blogs for numerous organizations in the areas of human and veterinary medicine.
For over 20 years, Erik has offered freelance writing, editing and media production services to all manner of business organizations, and has worked in all aspects of traditional media production and digital marketing across social media and email channels. Erik holds a Bachelor's degree in Business Management from Liberty University. Samples of Erik's work in these areas are linked below.
Blog: Enhanced Post-COVID Care for Patients: The Role of Continuous Monitoring
Topic: Medical Devices
Client: Oxitone
Blogs (all on this site), Drug Monographs, NexGen Pharmaceuticals
Topics: Veterinary Medicine
Client: NexGen Pharmaceuticals
https://nexgenvetrx.com/blog/
Blog: Corneal Cross-Linking: Normalizing the Cornea in Cases of Keratoconus Corneal Ectasia and Irregular Astigmatism
Topic: Laser Corneal Reconstructive Repair
Client: Motwani Lasik Institute
Note:There are many examples of Erik's work that have been done for entities (corporations, government organizations) that cannot be displayed due to their sensitive or proprietary nature. Revised or redacted examples are available upon request.